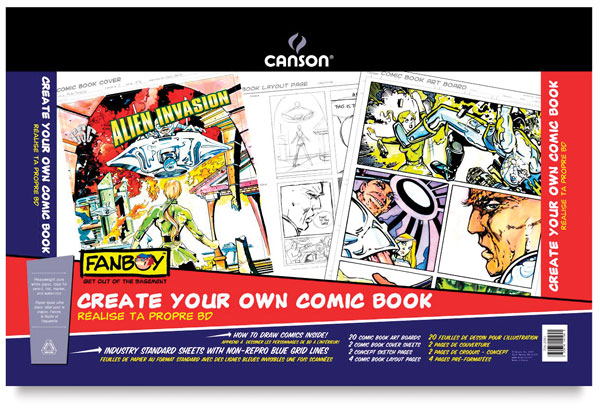 Most cartoonists draw on Bristol board, and Canson is a good brand. I've tried some of the professional comic book artist boards that have measurement lines in non-reproducible blue with mixed results. It is very handy to not have to measure out margins and panel boxes, but sometimes the quality of paper is not great. I tried a new variety put out by Canson called
Fan-Boy, Get out of the Basement: Create Your Own Comic Book
. It's very good quality and cheaper than many of the other brands.
The image below is a portion of a page I'm working on. You can see that the blue border lines are printed. They only show because I scanned it in color. If I had scanned it in black and white, those lines would not appear. When you are very busy with a day job and family, it's nice to cut one step out of the process.
This company makes a variety of papers like this in manga size, comic cover paper, etc. The set that I purchased has 20 sheets of 11x17" heavyweight, pure white paper art boards and also includes , 2 comic book cover sheets, 2 concept sketch pages and 4 comic book layout pages. Everything you need to plan and create your first comic book.
If you're interested in making your own comic, I'd highly recommend this set. Ordinarily they're $20, but are on sale for $12 at
Dick Blick
.