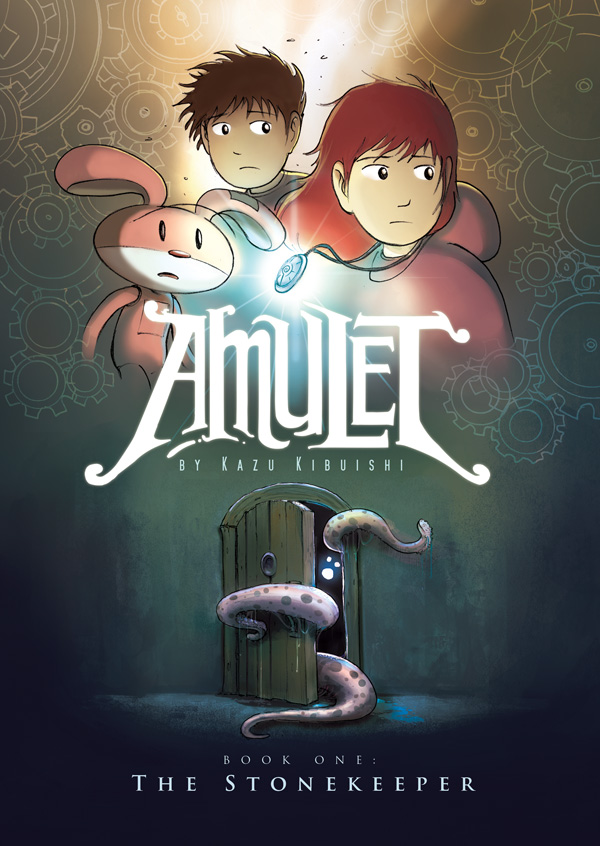 I have been looking forward to this book coming out. It's a great graphic novel for kids and for the kid at heart. It's by
Kazu Kibuishi
, a really great cartoonist who's editor of the
Flight
anthologies and several comic creations of his own. The Flight anthologies are great collections that demonstrate the wide range of fantastic stories that can be told in the medium of comics.
The first volume of the
Amulet
series is
Book One: The Stonekeeper
and is an all-ages story about two kids trying to save their mother from terrible creatures, filled with action, pathos and almost any fantasy element you can imagine. Using a powerful amulet left by their great grandfather as their guide, the kids have to journey through a giant subterranean labyrinth to rescue her before it's too late.
It's a great story, and the book had barely seen print when it was already snatched up to be made into a live action movie, with Jaden and Willow Smith (the children of Will and Jada Pinkett Smith) as the leads.
The best kids books authors aren't "writing down" to kids. There's something for adults too in books like these. Amulet is definitely an example of an "all ages" graphic novel that both kids and adults can enjoy.
In an
interview
, the creator says,
Most of your work is aimed at all-ages readers; not necessarily about kids and not only for kids. Do you think that's fair?

Well, I think that "Amulet" is the first book I produced with the younger readers in mind. "Copper" and my "Flight" stories are made mostly to appeal to the artist side of me. With "Amulet," I knew for sure that young readers would be the ones reading it, so I tried to channel my ten year-old self and tried to make the book that I would have begged to have at the school book fair. I wanted to give that feeling to new readers out there too. If I were that age, at the book fair, I imagine this would indeed be the ultimate find. Heh heh.